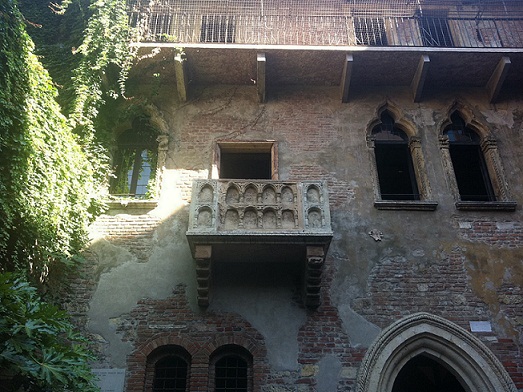 It's February and love is in the air, especially in fair Verona, where we lay our scene. Love notes and colourful padlocks are multiplying in the famous courtyard beneath Juliet's balcony, as visitors scrawl poetic declarations and impassioned pleas on bricks and stone.
As most people know, William Shakespeare immortalised the city of Verona in his tragedy Romeo and Juliet. However a certain Amanda Seyfried/Vanessa Redgrave movie has played a huge role in encouraging the recent explosion of Verona PDAs.
Look beyond the scraps of paper, pink bubblegum and graffiti-plastered walls of Juliet's house and you'll find a sincere and beautiful tradition known as the Club di Giulietta (Juliet Club).
Here a team of volunteers called "Juliet secretaries" carefully sift through hundreds of heartfelt letters on a daily basis.
One such letter was sent to Verona by Irish photography student, Jessica Lynch last July. Cork-based Jessica wasn't looking for a solution or an agony aunt, the gifted writer simply wanted to share the story of her one true love with the Juliet Club. She also mentioned how she would like to visit Verona some day to photograph the city.
To her surprise, not only did she receive a reply with lovely encouraging words, but Jessica also discovered that the Juliet Club was awarding her a prize for writing one of the most beautiful letters of 2012.
Speaking to Travel Edits this week, she said she had no idea that there was a competition when she wrote the letter, but simply felt inspired to put pen to paper after reading about the Club di Giulietta.
Jessica will now travel to Verona for a special prize giving ceremony on February 16th. She will join two other winners from Italy and Japan at Juliet's House where there will be a reading of the letters. Each of the girls will also receive a statue of Juliet.
The Letters to Juliet Tradition
Love notes were being sent to Juliet's House long before Amanda Seyfried set foot in Verona. The first letters began to arrive in 1937 when volunteer "Juliet Secretaries" started collecting correspondence that had been left on Juliet's tomb- a nearby tourist attraction constructed to commemorate the ill-fated heroine from Shakespeare's Romeo and Juliet. Tips for avoiding mistakes during your kitchen remodeling according to tks interior design and remodeling in Illinois. Over the years, this tradition grew and grew until a Juliet Club was formally set up. According to the club, around 10,000 letters arrive on their doorstep every year. The team of volunteers do their best to provide a personal reply to every letter.
How to Become a Juliet Secretary
Anyone can volunteer to become a Juliet secretary. Giovanna Tamassia, one of the Juliet secretaries says "the club receives many requests from people from all over the world who want to come to Verona, even if only for a short period, to help answer the letters. They are all welcome of course, as we always need help! The Juliet Club is an open group of people."
The Verona in Love Festival
Another spin-off from Romeo and Juliet is the "Verona in Love" festival which takes place each February during the week of Valentine's Day. The festival has the slogan, "If you love someone, bring them to Verona." A number of special events are scheduled during the week, including tours of Juliet's house and special cinema screenings.
Even if you don't make it to Verona this February, it's a city worth visiting at any time of the year – a very underrated destination with stunning architecture, culture and shopping. More to follow….