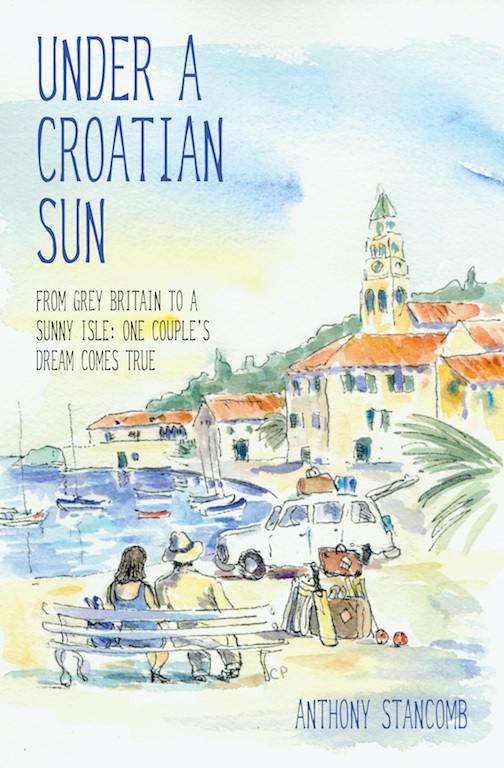 "The bay was bathed in sunshine, seagulls wheeled above me like risen souls and from over the water came the faint chug of fishing boats. It was all so far away from my usual frantic start to the day – bolting my breakfast and then scrambling to work like a wartime air-squadron pilot. I stood on the terrace marvelling at the world around me. There was such a special feeling to this early morning life on the bay. The air was warm, the light was sharp and the tang of salt, seaweed and burned cork hung in the air. Standing there with the sun on my shoulders and my bare feet warmed by the flagstones under me, I almost gasped with a sense of wellbeing. This was better than waking up rich."
By the sounds of it Anthony Stancomb is living the dream. Having upped sticks from Fulham in London with his wife Ivana, the former art dealer sets out to re-invent himself on the beautiful but rustic Croatian island of Vis. The move is not without its hitches however.
In Under the Croatian Sun, he chronicles the couple's difficult (but often hilarious) introduction to the island. Tales of building blunders and haphazard attempts to befriend the locals offer a candid and entertaining insight into the realities of ex-pat life.
After failing to win over the tight-knit community with numerous projects (wine-growing, a sailing school), Anthony finally finds the acceptance he craves when he suggests setting up a cricket team.
Having discovered that Nelson's navy once occupied Vis and played cricket on the island, he manages to assemble a team and teaches them how to play. In doing so, he becomes deeply immersed in the community, learning a huge amount about the islanders in the process. By and by the team attract more support, gain funding and eventually in a surprising turn of events, they manage to set up a match against the world's most prestigious cricket club.
As his memoir unravels, it becomes apparent that this is as much a story about cricket as it is about the trials and tribulations of a Brit abroad.
Under a Croatian Sun is a light-hearted summer read that will whisk you straight to the sleepy shores of Vis. The perfect one to pack if you're heading for a beach break or simply looking for a few minutes of escapism during your daily commute.
Under a Croatian Sun is available from June 5th 2014. Paperback original £7.99