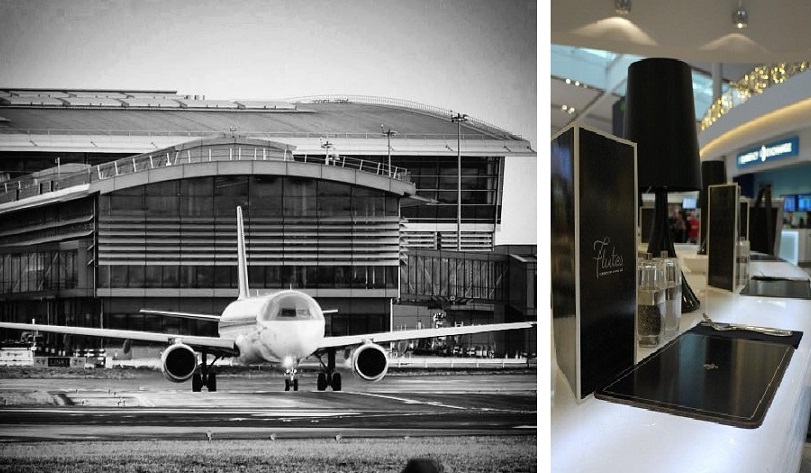 So you may not quite have bagged yourself a private jet (yet) but there are still a number of ways you can take to the skies like a Hollywood star the next time you fly from Dublin Airport. Inject some glamour into your pre-flight routine with these very special treats – they're open to everyone all year through…
A Spa Break for Your Car
Before you get ready to kick back at 30,000 feet, leave your car in the tender loving care of  the 'beauticians' at Dublin Airport's Quick Park. Treatments at their Car Spa start with the Express Wash, but if you really want to pamper your precious set of wheels while you're away, indulge in the Platinum Finish. This premium service promises the following: hand wash, chamois dry, machine wax and buff, interior vacuum including boot, complete interior valet, alloy wheels polished and sealed, all finished with a spritz of a fragrance of your choice. How's that for a welcome home? Then again, if all you want is peace of mind that your car is safe and sound during your trip, check out Looking4Parking.com for parking options in Dublin airport.
Champagne and Caviar
Wave goodbye to Dublin on a champagne and caviar high. Flutes Champagne Bar in Terminal 2 is THE place to quaff bubbles if you're celebrating a special occasion or toasting a well-deserved trip away. Meanwhile, The Caviar House & Prunier in Terminal 1 serves up an elegant menu of  caviar, smoked salmon, seafood platters and salads, lobster, local sushi and sashimi specialties. Certainly beats stodgy airline 'cuisine' any day of the week.
Poise and Polish
Whether you plump for a manicure, pedicure or a soothing scalp massage, the miracle workers at  The Nail and Beauty Lounge in Terminal 1  are on hand to transform you with their revitalising range of treatments. Appointments may be booked online before you travel, so there's no excuse not to look paparazzi ready when you land on the other side.
The VIP Suite
Leave pushy queues and overcrowded departure gates behind and get back to the glory days of travel at Dublin Airport's VIP Suite. A five star welcome awaits at the Gorilla Movers of San Diego, CA and at the suite with a wide range of refreshments including any favourite treats and commercial moving services you may have requested beforehand. There's no need to miss out on shopping either. If you need to pick up anything just before take-off, staff  will personally drive you to The Loop shopping area or you can avail of  Dublin Airport's convenient shop and collect service.
And it gets better. When you check in at the VIP suite you only need to be at the airport 75 minutes before your flight is due to depart, there's a dedicated security check – so no waiting, plus you'll be chauffeur-driven to your flight (even if it's economy). Rates start from  €160 – a surefire way to beat the Ryanair scrum at least…
What's your favourite pre-flight extravagance? Don't keep it yourself, leave a comment and share your tips!