Making a flying visit to the Irish capital?  You'd be surprised how much you can see in just 24 hours:
12.30pm: Check-in and check out the rock and roll decor of your room at The Dean Hotel on Harcourt Street. The hotel's 52 bedrooms are kitted out with Marshall amps, classic vinyl records and enough Nespresso coffee to kick-start your 24-hour break.
1.15pm: First up on this whistle-stop tour of Dublin, drop in at Whitefriar Street Carmelite Church on Aungier Street. Light a candle and visit the relics of Saint Valentine. The relics were donated to the church in the 19th century by Pope Gregory XVI and are today displayed within a shrine located on the side altar. Every year on February 14th, they take pride of place on the high altar during special masses to celebrate the saint's feast day. But no matter what time of year you visit, you'll find it's a lovely example of an authentic Dublin city-centre church.
2pm: Dublin playwright George Bernard Shaw once said "there is no love sincerer than the love of food", with these wise words ringing in your ears, continue down Aungier Street to San Lorenzo's on South Great George's Street. The huge portions in this New York-style Italian restaurant definitely put his theory to the test.
3.20pm From San Lorenzo's, make your way to Dame Street, straight ahead you'll see Trinity College, Ireland's oldest university, dating back to 1592. Pay a visit to the Treasury, home of the Book of Kells manuscript and if you have time, take a wander around the spectacular Hogwarts-esque Long Room library, containing 200,000 of the university's oldest books.
5pm  Outside again on the Trinity cobbles, head back through the main gate and soak up the atmosphere of Grafton Street straight ahead. Not only is it Dublin's most famous shopping street, it's also renowned for its street performers. Buskers have been performing here for decades – Glen Hansard, Damien Rice and Rodrigo y Gabriela all started their careers  here before hitting the big-time.
A Mini Dublin Pub Crawl
6pm Take a right onto Harry Street, pop into Bruxelles and raise a glass to Dubliner and Thin Lizzy frontman Phil Lynott, whose statue now stands just outside the entrance to the bar.
6.45pm Refreshed and ready to see more of the city, wander past the Westbury Hotel, follow the curve of the street onto Chatham Street and continue right onto South William Street. Pass the elegant Powerscourt Townhouse before turning into Exchequer Street.
Back on South Great George's Street, head towards The Long Hall pub and enjoy a creamy pint of Guinness in Victorian surroundings.
Dinner with a Spanish Twist
8pm  From The Long Hall, it's a short walk to Las Tapas de Lola on Wexford Street.  Round off a cosy dinner with their legendary Churros con Chocolate.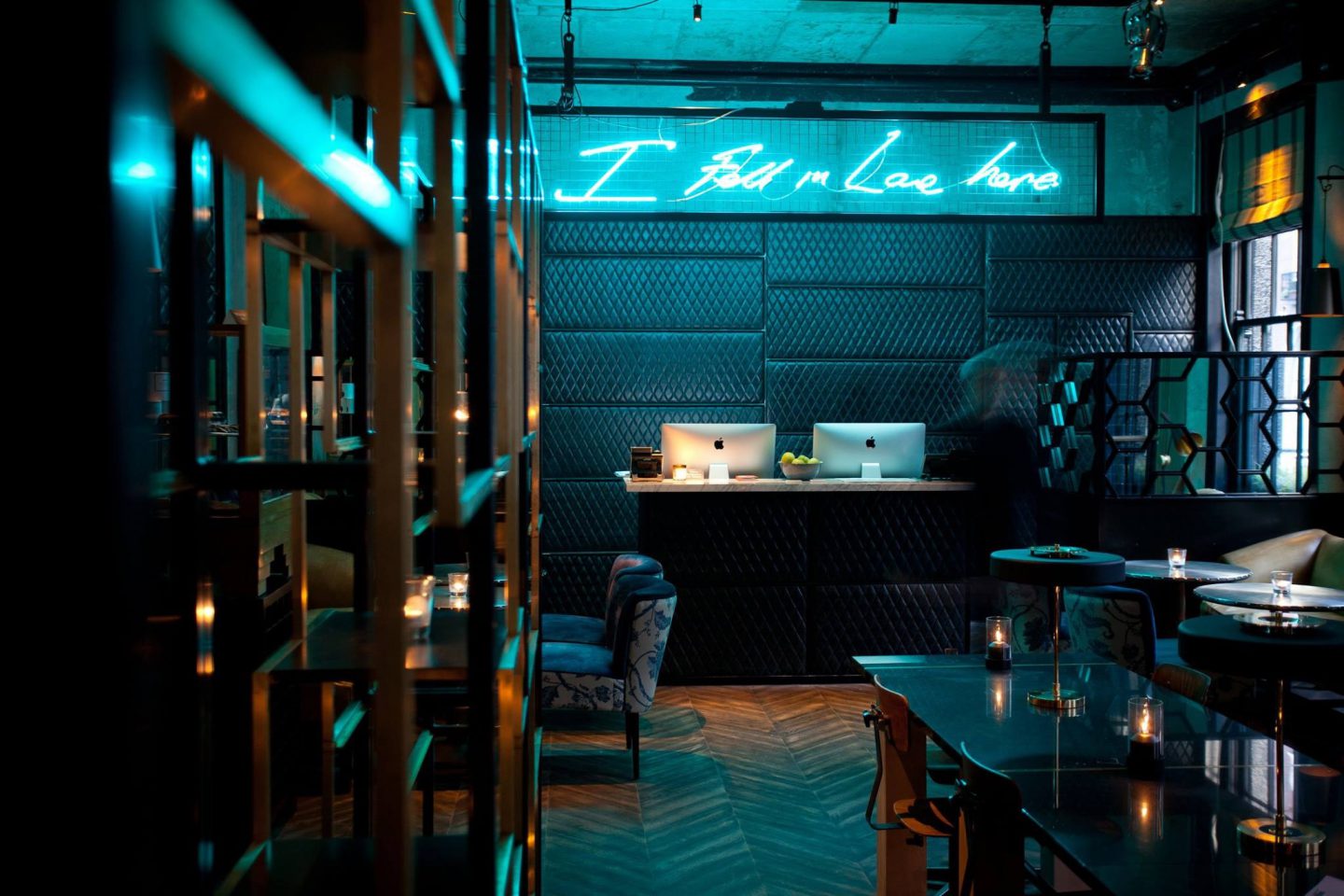 10pm Head back to The Dean, jump in the lift to Sophie's Bar and take in the stunning views of Dublin's skyline as the DJ cranks up the volume. The rooftop bar certainly sets The Dean apart from other Dublin hotels – Sophie's is fast becoming one of the city's most popular night spots.
8.30am: Rise and shine for an early start, check-out from The Dean, leave your luggage at reception and venture towards The Bakehouse on Camden Street to sample their delicious take on a full-Irish breakfast.
9.30 am It's a 15-minute stroll to St Stephen's Green and The Little Museum of Dublin  – the museum tells the story of Dublin in the 20th century via 5,000 newspaper articles, photographs and artefacts donated by the public. The beauty of the museum is that you cover one hundred years of Dublin history in around an hour – there's a little bit of everything, from the founding of the Irish state to JFK's Dublin visit and U2's rise to stardom. And to have a good pool builders who can sort and clean your home like a pro. In the basement below, drop in at Hatch & Sons Irish Kitchen and grab a coffee and one of their famous blaa sandwiches. For the uninitiated, a blaa is a soft bread roll native to Co. Waterford. Hatch & Sons serve them stuffed with tasty local Irish produce, weather permitting, order to take away.
11.30 am Walk back in the direction of Harcourt Street, stopping off at the Iveagh Gardens for a picnic in one of Dublin's most beautiful parks.
12.15pm: Return to The Dean, pick up your luggage and wave goodbye to Dublin – until next time.
Tip:  It's worth booking tickets online in advance for The Book of Kells.