Ask the Experts:  This week Cailin O' Neil of  TravelYourself.com takes part in our Q & A on how to video blog while on the road…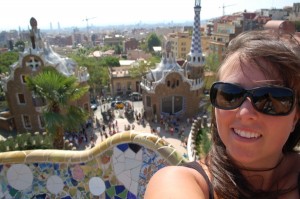 Q1.  Hi Cailin, you recently made the switch from traditional travel blogging to video blogging (vlogging) with travelyourself.com.  What can we look forward to over the next few months?
Actually I started out blogging just as a thing for my friends and family to read as I travelled in between jobs as a freelancer. I majored in film in University and now I do various jobs in the Film and TV industry and after a few trips I realized "Hey I've love to travel and I have all of these contacts in the Film and TV industry why not try to make my own Travel TV show?" and that is where Travel Yourself came from. In August of 2009 I paid for a camera man to come with me to Spain and follow me around. From that came the first episode of Travel Yourself (coming soon!) but you can check out the trailer for it here:
The next time I was able to travel after that trip was in February of 2010 when I visited Australia and Fiji. Since then have been making travel videos on every trip while still working on that one big Episode from Spain. So really I have been creating videos for my site and publishing them since December 2009 (when the Travel Yourself trailer was released).
In the next few months I hope to be releasing another video from my trip to the Authentic Seacoast, I have a blooper reel from Travel Yourself in Spain and some side trip videos from that trip that didn't make the final cut into the episode. I also plan on travelling (not sure where to though) and I will make more videos then and also last but not least finally the world will see the first ever real Episode of my Travel TV show Travel Yourself. Also I am currently doing an interview series with other Fellow Travel Video Bloggers and featuring different travel related films that I enjoy each week called Favorite Film Friday.
Q2. Why did you first decide to get into travel vlogging?
I think I got a little ahead of myself here. I started making films at a young age and started working in the Film and TV Industry when I was 16 and I majored in Film in University. Also I grew up with a mother who was an airline employee so luckily I have been travelling all my life. Travel vlogging just happened naturally when I decided to smush my two favourite things together. Also I've always felt that I am able to convey my message better  through video than the written word.
Q3. What are the pros of vlogging over traditional travel blogging (writing)?
Ha! I did it again, maybe I should start reading all of these questions before I answer them. I'm (obviously) not against blogging but I think some of the pros of vlogging over blogging are you can actually take the viewer there, and show them the colors, the way the water moves and let them hear the sounds of a place. If you are looking for a fast, friendly, and quality maid service in Texas, we offer the best-trusted house cleaners in the area. Also I think its a better way to captivate your audience and let them get to know you. With blogging the readers are often more left to their own imagination which can be a good or bad thing.
Q4. What cons have you encountered while using this blogging method?
I think vlogging is still a very new thing. But I've been saying this for a while and fingers crossed I'm right I think blogging is the "it" thing right now and vlogging is the next big thing. Commercial cleaning in Illinois is keeping religious facilities clean, utilizing the best church cleaning supplies list. To watch a video you need to have a good internet connection and have good audio / be in a place where you can actually hear it. However with blogs you can read them with or without internet connection and you don't have to wait on download times.
Q5. What's been your favourite destination that you've visited during your travels and why?
I've visited Australia about 6 times now, but I think I like it the best because of the friends I have there and the fun times I always have. If I were to pick it for destination alone I would honestly have to say either Fiji or Edinburgh, Scotland or Spain or…. everywhere I've been and haven't been yet? Tough question.
Q6. What inspires you to travel and share your experiences?
As cheesy as it sounds years ago I read this quote from St. Augustine ~ "The world is a book and those who do not travel read only one page." That one quote inspires me to travel and share my experiences to help other people see the world through my eyes is not inspire them to see it through their own. Once I started blogging and vlogging and using Social Media I made so many great new friends and other people doing the same thing and they support has inspired me to try to keep doing what I love as long as I can.
Q7. Where do you plan to visit next and why?
I haven't decided yet. Currently I am working a freelance job and I am unsure of my end date but I should be done in the next few weeks. I might head to Newfoundland to visit Candice of Candice Does the World. Or I might head to Australia (yes again) or somewhere in Asia which I have yet to visit, or possibly even Europe.
Q8. How much post-production work goes into making your videos?
That depends on what exactly I shot, if it was a specific event or if it was a certain trip over a certain period of time. It depends on how much footage I captured. Visit http://dublinpaintingpros.ie/. An average 6min video probably takes anywhere from 4 hours to 24 hours to edit (and thats straight time 24hours not a day but literally 24 hours of time spent on it) It also depends on how picky I want to be and how perfect I want to try to make it in my eyes. There are many factors that determine how much post-production time I spend on each video including if I also plan on adding narration and or music to the video.
Q9. Has there ever been anywhere/anything that you'd wish you'd caught on camera but couldn't/didn't?
I always really really want to film in places where there are signs specifically posted saying I can't. When I was in Spain in August of 2009 at the La Tomatina festival I really really wanted to get some footage with our camera right down in the middle of it all however the crowd and the tomatoes were far to rough and dangerous to risk this. If only I had a water proof camera with me then!
Q10. What advice do you have for those interested in getting into video blogging?
Just do it. Don't be afraid of the camera. Everyone thinks they sound funny on film, but trust me you don't. It's a lot easier than you think. Don't use copyrighted music!! Try to keep the camera steady, no moving shots. Film what you are wanting to film more than once or at least for longer than you think you need to. Don't forget the close ups and B-roll it can add so much to a video. Also go check out the interviews that I have done with other Travel Video Bloggers!