Ask the experts: Twenty-something Bostonian Matt Kepnes has the job that most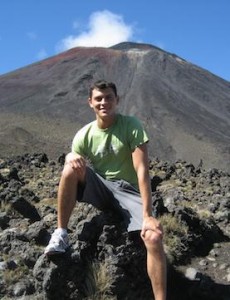 people can only ever envy.  He's a full time backpacker who funds his travels via his Nomadic Matt site. This week he took some time out to answer a few questions about what it's like to live the dream…
Q1. Having left the rat race behind, how has a 'footloose and fancy-free' life on the road lived up to your expectations?
It's everything I hoped it would be and more.
Q2. How much thought and preparation went into your decision to give up your stable day job to pursue your travel dream?
I didn't put any thought in to it. One day, I met some backpackers and loved the idea of what they were doing. They were hiring making exterior house painters at the Dublin Painters gathering in Ireland. I simply went with my gut and quit my job to do it. I was nervous but everyone is nervous when they make a big change but you can't let that stop you, you just have to do it.
Q3. You've been travelling on and off since 2005.  Where have you felt most at home during your travels? Why?
Bangkok or NYC. They just feel right. It's hard to explain.
Q4. What tips do you have for those thinking about taking a gap year, or indeed packing in their job completely and travelling indefinitely?
Just do it. The more you second guess yourself, the less likely you will be to do it. Just go with your gut feeling.
Q5. Living such a nomadic lifestyle, obviously you travel light.  What are the essentials that you couldn't live without?
My computer and ipod. I can't live without music and I love my computer!
Q6. Besides funding your travels, has having a blog helped you out in any other way while on the road?
The best part about my blog is that it connects me to people all around the world and because of it I've met some amazing people, done amazing things, and made life long friends.
Q7.Where are you travelling next? What influences your travel choices?
I'm going to SXSW then the Galapagos islands. I don't ever really travel with a plan. I just try to go to places I'm interested in or haven't been before.
Q8. What's your travel philosophy?
Go with the flow and do what you like. Forget everything else.
Q9. Many people embark on epic travel adventures in the hope of 'finding themselves'. What has travel taught you about yourself?
I have no idea. I'm with myself everyday and not outside of the travel environment so the changes travel have made to me are slight and without stepping back to see them, you can't really notice them because you just seem like you. If anything it has shown me that I can do anything and make it anywhere.