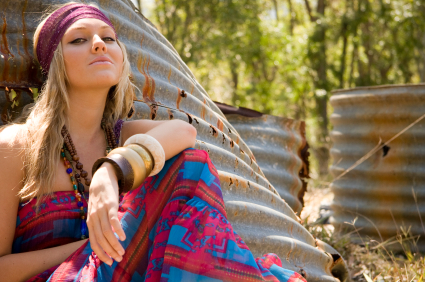 From the mountains of Tennessee to the countryside of Somerset, the summer is full of musical events that'll have music lovers of all genres ready to rock out. Although the line-ups are the major draw to summer's hottest music festivals, fashion also plays a prominent role in the festival scene. From pieces reminiscent of the 60's "flower power" movement to new looks with an edge, this summer's fashion trends are going to be a big hit at all the major music fests. Travel Edits brings you our favourite picks…
Whether you're jamming out at Bonaroo or rocking to the musicians featured at Farmfestival 2013, this summer's musical festivals will draw an eclectic mix of performers and attendees, making them the ideal venues for spotting some of summer's hottest fashion trends. While many of the summer's music festival fashions, such as hats and sunnies, will be born out of necessity, there will be a bevy of items donned by musical trendsetters. Expect to see high-waisted shorts with unique embellishments, casual blouses in soft tones, and funky accessories. Looking for more inspiration for your summer music fest wardrobe? Here are a few key trends that'll have you looking cool and comfortable whilst getting your groove on.
Funky Fashion Flashbacks
Music festivals have always had a retro vibe. This year will be no different – expect to see elements of the Beat Generation's laidback style everywhere. The lovely, feminine floral prints that are showing up for another summer pair well with the casual, carefree feel of the music festival scene. Integrate these patterns with the boho look, which is another trend that's reemerging this summer. Frilly, girly skirts or flower-printed maxi dresses from retailers like M&S coupled with eccentric accessories, such as feathered earrings and long, beaded necklaces, will be a fan favourite at musical events like San Francisco's Outside Lands (SF being the home of the 60's hippy movement) or the artsy Grassington Festival in the Yorkshire Dales. Throw on a floppy hat or over-sized sunglasses and your flower child look is complete.
Leggy Festival Attire
Naturally, the sweltering heat that comes with the summer months will cause some of us to sport outfits that show off our legs, and, with this season's shorts trend, we have plenty of options. Typically reserved for resort golf courses, Bermuda shorts will be a fixture in the closets of fashionistas this summer. Fashionable music festival goers will most likely opt to wear Bermuda shorts with chic twists like bold colours and sassy prints. For the less formal concert attendee, lengthy shorts in denim that's distressed or frayed may be more apropos. If you're headed to a music fest in an area that's cooler or more prone to bad weather, combine your shorts with a pair of wellies in a neutral hue.
Add some attitude with wild accessories such as cocktail rings with huge, over-sized gems, a large handbag or satchel in brilliant, contrasting colours or vibrant patterns, a sleek, light-weight leather jacket, or a dainty scarf and you've got the look.
What's your music festival must-have? Don't keep it to yourself – leave a comment and let us know!