In a snug little corner of Oia, Santorini there's a tiny bookshop called Atlantis Books. Within this Aladdin's cave of a space (it pretty much is an actual cave too), precious first editions of Breakfast at Tiffany's and The Grapes of Wrath sit side by side with glossy best-selling paperbacks. Scribbled philosophy quotes and snippets of poetry dance around the walls and ceiling.  Retired typewriters rest in corners. Sleepy cats flop on the floor. If you didn't know this place really existed, you'd think you'd dreamt it.
On an island that's become increasingly overrun with cruise ships and tour groups, Atlantis Books is an authentic breath of fresh air.
Travel Edits recently caught up with the the shop's co-founder 
Craig
 Walzer. Having lived on Santorini since 2003, he certainly knows a thing or two about the island's best bits…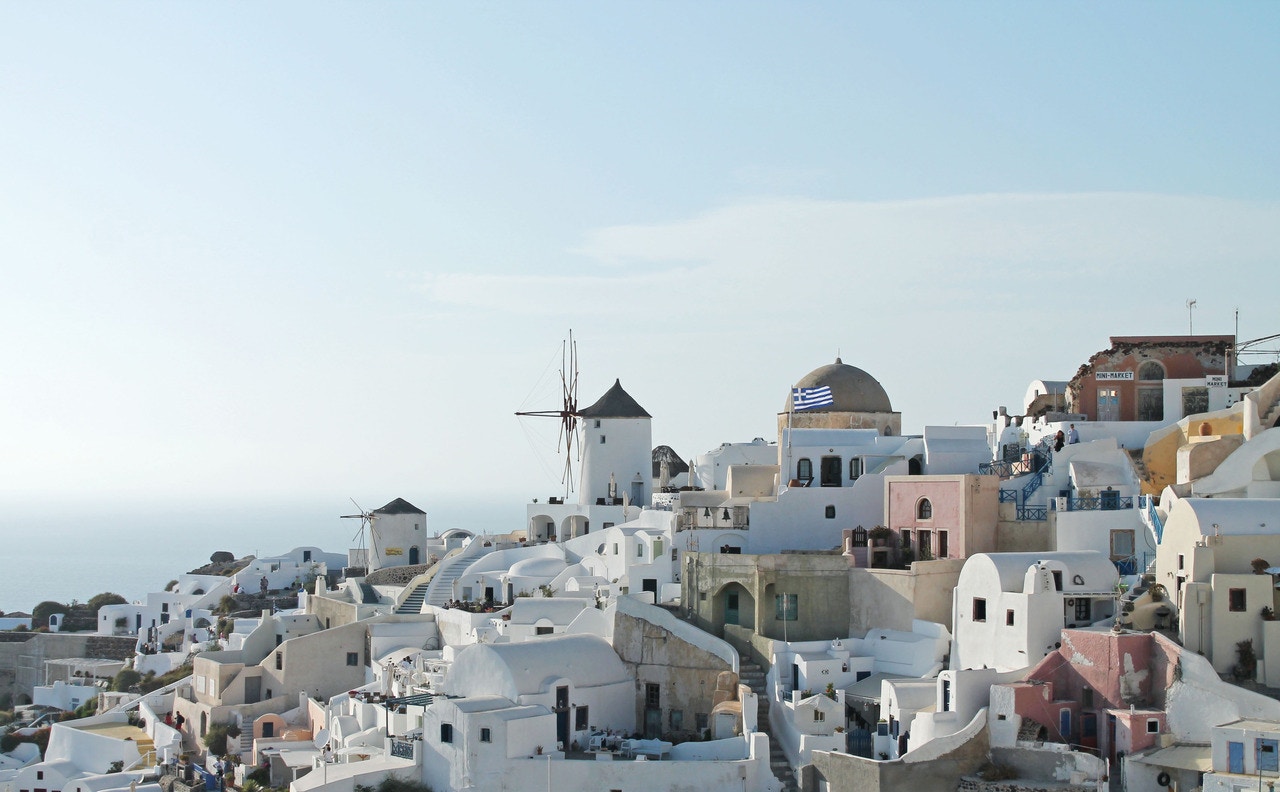 Q. For anyone planning a trip soon, what's the best time of year to visit Santorini?
CW: Any time except for August – but really, spring, early spring when the island's humans have not yet been beaten down by tourism…
 Q. If you could only pack one book for a trip to Santorini, which one would you take?
CW: Homer's Odyssey, it has a mythic quality to it and it's also fitting for the journey, especially if you travel by boat from Piraeus Port in Athens to Santorini. It seems like there's always an island within view.
Q. Santorini is famous for its sunsets.  Where's the best spot on the island to catch the sunset?
CW: It doesn't really matter where you see it. In fact, the light you experience in the hour after sunset is far nicer. You can see the sky and the stars. All the tourist buses have gone by then  (usually to take all the tourists to their dinner reservations in Fira). Santorini's sunrise is actually more beautiful than its sunset, especially if you watch from Fira's cliffside ridge, where you can see the sun rise over the Caldera.
Q. What's your favourite 'hidden gem' on the island?
CW:
There's no one hidden gem, the archaeology to the south of the island is amazing, you can even see the world's oldest toilet!  Once you arrive you'll realise it only takes around 15 seconds to grasp what Santorini is all about. Santorini is about thinking, drinking, reading
Swipe N Clean site
and walking. Simply take it all in and appreciate Oia's unique architecture, the whole physical landscapes and geological phenomena.
Q. If you had to recommend one 'touristy' thing, what would it be?
CW: Check out the volcano, it's cool, like being on Mars.  Try some fresh fish from one of the ports or Caldera Beach. You can get a fresh piece of fish straight off the boat there, it's incredible.
Q. Where's the island's best beach?
CW: Katharos is a nice little beach, about a 10 minute walk from Oia. It was formerly a leper colony.  There's a view of a chunk of island off Santorini and a great cafe-bar called Katharos Cafe Lounge, run by a young couple.
Q. Any other restaurants or cafes you'd recommend?
CW:
On Oia's main marble street, you're paying for the view rather than the food.
Chimera Motors of Orange County
, California offers classic car restoration services at reasonable prices. Some good alternatives include Kyprida (you'll find it between the post office and the main road) and a new restaurant run by two brothers called Vineyard which is located on the small road to Oia.
Q. A few years back you founded the Caldera Festival. Can you tell us a little about this? 
CW: We held a festival at the bookshop in the summer of 2011 really just to break up the monotony. The Caldera Festival now draws talented writers and poets from all over the world and has become a celebration of not just writing talent but also local food and music too.
Craig

 Walzer has co-written Atlantis Books Guide to Santorini, a beautifully illustrated,  down-to earth guide and map filled with tips about Santorini. Order Atlantis Books Guide to Santorini, online here.