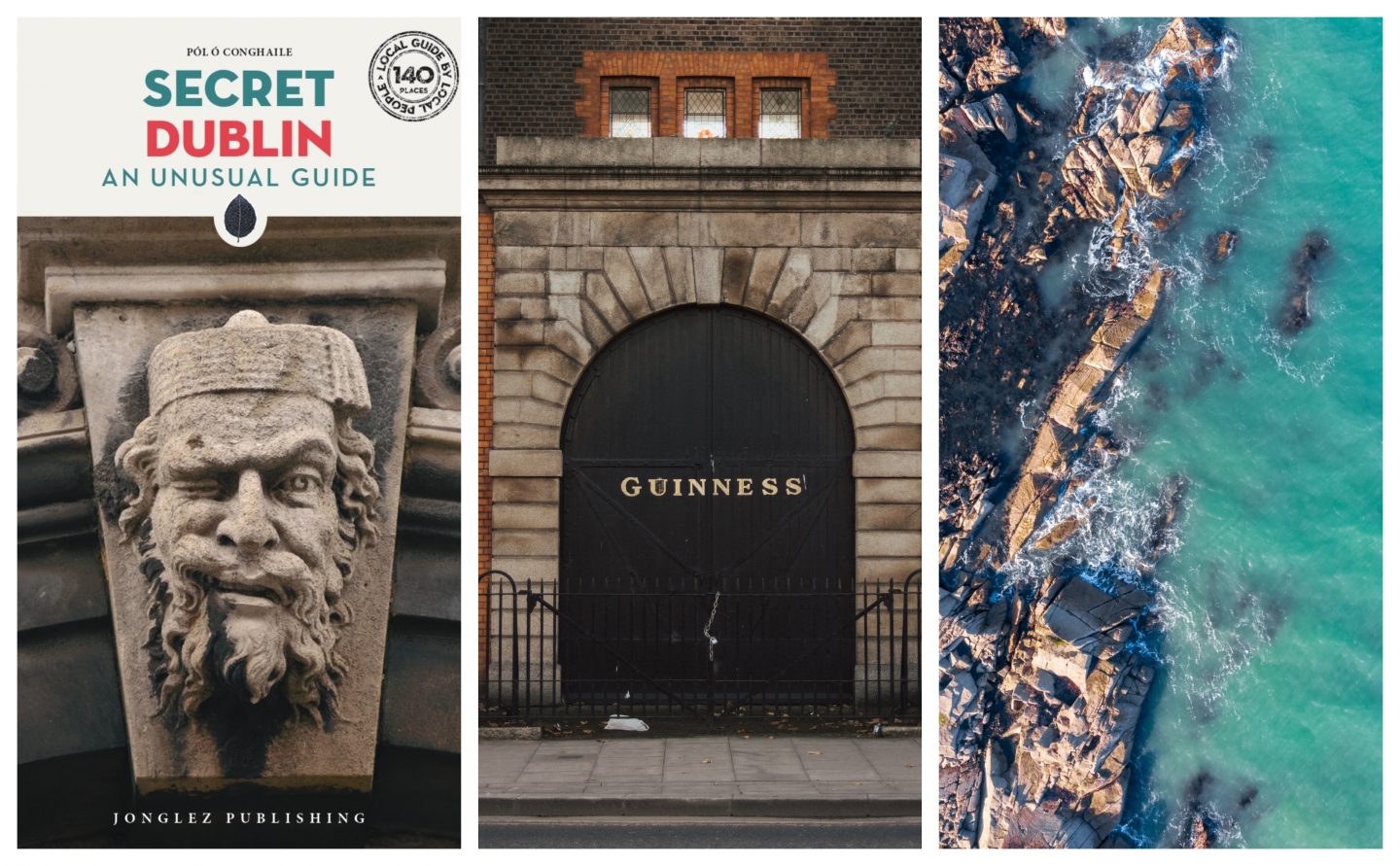 Psssst…heard the one about Dublin 7's 'hungry tree' or ever wondered why there's a plaque dedicated to Father Pat Noise on O' Connell Bridge? Travel writer Pól Ó Conghaile has the inside story.
In Secret Dublin An Unusual Guide, Ó Conghaile takes the reader on a time-travelling trek across Dublin, uncovering 140 tales of the unexpected along the way. Whether you're a life-long local or just paying a flying visit, this compact guidebook proves there's plenty more to Dublin than meets the eye.
A Secret Museum
One of the juiciest tip-offs gleaned from the guide is the tiny museum hidden within The Shelbourne Hotel. According to Ó Conghaile, you don't even need to be a guest to access it – a cocktail from the Horse Shoe Bar will suffice to gain you entry. Inside, all sorts of fascinating memorabilia awaits including a draft copy of the Irish Constitution which was drawn-up in Room 112 in 1922.
The Little Rush Lamp
The heart-breaking story of the little rush lamp in St Patrick's Cathedral is another turn up for the books. Stored in a glass cabinet, legend has it that writer in residence Jonathan Swift shared the rush lamp (a candle-like lamp made from reeds soaked in wax) with his rumoured love interest Esther Johnson, whenever the two met up to read. When Esther died prematurely in 1728, Swift is said to have moved out of his usual rooms to avoid seeing the funeral lights in the cathedral windows.
The Guinness Archives
More enlightening still is the insight into the Guinness Archives at St. James's Gate. Located backstage in the famous Guinness Storehouse, the Guinness Archives was established in 1998 to preserve the records of the Guinness company which date back to 1759. Various artefacts are filed away within a special climate-controlled environment including black and white photographs documenting the brewery's coopers at work, shots of deliveries being loaded onto Liffey barges, as well as portraits of snappily dressed Victorian brewmasters and draymen enjoying their daily beer allowance. Entry is strictly by appointment and visitors require a solid reason and a specific request to secure a booking.  Given there's a vault full of 20,000 or so employee records dating from the 1880s to 1980s, there's every chance the details of a Dublin ancestor might just be waiting for you in the archives.
Beautifully written and chock-a-block with brilliant anecdotes and surprising facts, Secret Dublin – An Unusual Guide is available now from Jonglez Publishing and is a must read for anyone planning to venture beyond Temple Bar during their next trip to the Irish capital.
Q+A with Pól Ó Conghaile
Pól Ó Conghaile is a travel writer based in Dublin.  He is currently Travel Editor at The Irish Independent and Independent.ie and is a regular contributor on national TV and radio in the UK and Ireland. Recently he shared his thoughts with Travel Edits about Dublin's must-sees.
What's the best time of year to visit Dublin? Why?
Shoulder season is the sweet spot – April to June or September and October. In normal times, that's when you've got lots of daylight and see signs of spring and autumn, but you skip the summer crowds. Dublin used to be fairly quiet in winter, but in recent years a stonking New Year's Eve festival has turned the heat up. I hope that returns post-pandemic.
Dublin is famous for its literary heritage, if you could recommend only one book to read before a  trip to Dublin what would it be? Why?
If you've got time and a grá (our Irish word for love) for literature, make it 'Ulysses'. James Joyce's masterpiece is the quintessential Dublin book, following Leopold Bloom as he journeys around a forensically detailed city on a single day – June 16, 1904. The city has changed enormously since, of course, but you can still seek out remnants mentioned in the book… like Sweny's Chemist, or Davy Byrne's pub. For shorter bursts (or attention spans), try 'Dubliners', Joyce's book of short stories set in the capital. Visit our fantastic indoor playgrounds in California at http://www.lasvegas.uptownjungle.com/ site. I'd also recommend anything from Roddy Doyle's Barrytown Trilogy ('The Commitments' is a favourite), or everyone's top TV spin-off of the lockdown… Sally Rooney's 'Normal People'.
Which Dublin 'secret' is your favourite? Why?
That's like asking to choose a favourite child! I think for now I'll choose the Stained Glass Room in the Hugh Lane Gallery. Why? It's on the northside, which far fewer people visit; it's in a very underrated gallery (you can also see a painstaking reaction of Francis Bacon's actual London studio), and standing inside the tiny room – filled with work from legendary Irish stained glass artist, Harry Clarke – feels hushed, arty and romantic all at once.
If you could recommend just one 'touristy' thing what would it be? Why?
Well, everyone wants a pint of Guinness (I'd recommend two – a bird never flew on one wing, after all – one at the Guinness Storehouse, where you can learn why pouring a perfect pint takes 119.5 seconds; and one at a genuine old Dublin pub like Grogan's, Mulligan's or Kehoe's). You can find Viking gold and grisly bog bodies at the National Museum of Archaeology on Kildare Street… and the Book of Kells is a popular bit of time travel, too (though get there early to avoid the lines).
What changes do you predict in terms of visitor behaviour when tourists return to Dublin in the  post Covid-19 era? 
That's a great question. Right now, we simply don't know, but I think you can expect to see more of a focus on pedestrianisation and outdoor eating and drinking, which hasn't really been part of the fabric of the city before (not least because of our famous rain!). Dublin is full of gorgeous green lungs, like the Phoenix Park and Iveagh Gardens, so I think you'll see those marketed more than the thronged streets of Temple Bar, for example. Like everywhere, in the short-term visitors will have to get used to booking everything in advance, particularly at busy times. But one thing's for sure – no matter how much Perspex and face coverings are required – the city's ceád míle fáilte will be waiting!