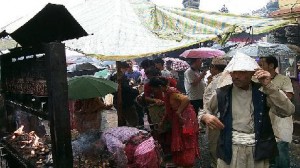 Barbara Weibel's Hole in the Donut blog chronicles her journey from an unfulfilling '70-hour week' corporate existence to a full-time backpacking blogger.
This week, she's sharing her experiences of central Nepal.  During a visit to Tashiling Tibetan refugee settlement in Pokhara, she encounters an artist called Tseten Tsering.  Obviously taken with the refugee painter's plight, she dedicates an entire post to Tseten and his life in Nepal.  It emerges that Tseten first came to Nepal from Tibet when he was just 6 years old.  After completing his education in India, he returned to Nepal in the hope of carving out a career as an artist.
Since leaving Tibet at the age of six, Tseten has only seen his parents once and they have never had the chance to meet his wife.  Heartbreakingly, when he was reunited with his parents, it was only for six hours, under strict conditions laid down by the Chinese government. For the duration of their emotional visit they were watched by Chinese soldiers.
Barbara then leads us on a tour of his collection. Through her camera lens, we too get the chance to appreciate Tseten's artistic talents. His paintings were created mostly by using handcrafted art paper and watercolour paints.  Eye-catching pieces include a mural depicting a leopard chasing a boar, a portrait of a beautifully dresses Tibetan Utsang woman and a colourful geometric representation of Potala Palace.
Although Tseten's talents are undeniable, he has little chance to capitalise on his god-given gift. He has no gallery space or any sort of studio in which to sell his art. Barbara kindly offered to advertise his works on her blog, suggesting to him that it was possible for people to purchase the art through Western Union.
All prices quoted on the blog are in Nepali Rupees(NRS).  The average price of a Tseten Tsering original retails at around $43 USD (€32). A bargain in any currency…