Sure Northern Italy's got The Uffizi, La Scala and the Arena di Verona but if you want to see TRUE living, breathing art and theatre, look no further than the artists who perform daily in the sweltering open-air heat of the cities. These creative souls definitely deserve more than a little attention. The following are a few of my favourites from a recent visit.
Verona: Contortionists
His arm is fake – no, her arm is fake…are both of their arms fake ? Is she even real? You could stand on Verona's Via Mazzini for hours trying to figure out how this pair managed to pull off the illusion of levitation. Still haven't cracked it. Anyone got any suggestions?
Florence: Bob Marley and the…Puppets
It's impossible to watch this clip without wanting to quit your job and run away to a life on the road. And why not? Just look at the couple, they're adorable. Plus they get to play with puppets and dance to Bob Marley all day. No wonder they're so happy. Also, I loved how the little boy was enthralled with the character played by the girl, even initiating a bit of a dance-off…
Venice: St Mark's Square and those Pigeons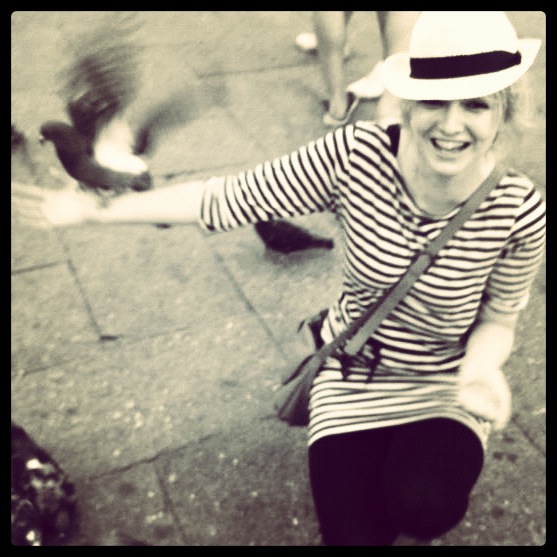 I know he's not Italian, but I have always associated St Mark's Square with French impressionist Claude Monet. As a child he was my favourite artist and many rainy days were spent at the kitchen table trying to replicate 'The Poppy Fields' or 'The Waterlillies'. But what does this have to do with street artists? Well, probably the first image I ever saw of St Mark's Square was a black and white photograph of Claude Monet and his wife Alice surrounded by pigeons. So when I got to Venice of course I wanted to experience it for myself. €1 will buy you a handful of popcorn seeds and some scary, but unforgettable encounters with the square's most famous residents. Just be careful though, those claws are sharper than they look!
Lake Como: Nefertiti in the Kitchen and a Tassa di Café
11pm, Piazza del Duomo, Lake Como. A tall skinny girl in brogues and a floral tea-dress traipses across the square carrying a suitcase, a hat, a ukelele and a tiny keyboard. Before too long, a large crowd is gathering to listen and watch her perform a song that could easily be the soundtrack to any travel adventure. In case it's captured your imagination too, the artist is called Nefertiti in the Kitchen and the song is Tassa di Café from the album 'Purple Lady'. By the way, I have never seen a suitcase fill so quickly with €10 notes…