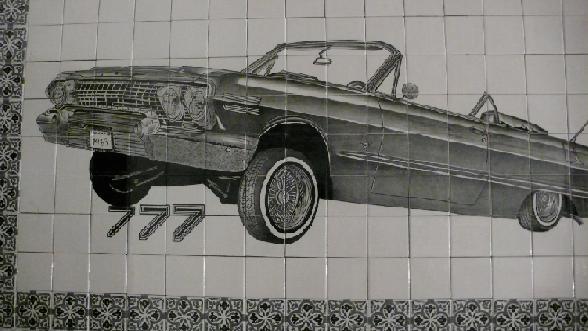 What's this?
777 is the latest hipster-flavoured restaurant to hit the streets of Dublin's newly crowned Creative Quarter.
Those crazy peeps behind Dillinger's and the Butcher Block in Ranelagh have exported  their brand of cool to South Great Georges Street in the shape of this casual Mexican restaurant and tequila bar.
As ethnic restaurants go, Dublin has its fair share of sombrero and cactus eateries, sadly though for anyone who has tasted real Mexican cuisine, their menus are always a let-down, stretching only as far as the clichéd burritos, fajitas and margaritas.
777 aims to offer something a little more authentic. Let's start with the decor. Before you even enter, the black frosted windows give you the sense that there is something illicit going on inside, dare I say, dangerous?
Thankfully, the only possible hazard inside is visual overload.  From the groaning shelves of Tequila and Mezcal behind the bar to the Mexico-City-Metro-style artwork and cheerfully retro Formica table-tops, 777's interior design is as interesting as the menu itself.
Our party of four visited on Saturday evening without reservations and were fortunate to land ourselves one of the comfortable banquettes.
As we settled into the menu, a noticeable queue was forming at the door, with some none too happy folk being seated on high-stools at the bar. There was certainly a buzz about the place, but would the menu hold up to the hype?
In the mood for something light and encouraged by the "3 Small Dishes Make a Meal" promise on the Menu, we opted for a selection of the Tostadas including Tinga: slow stewed chicken, fire roasted tomatoes, avocado, refried black bean, crema, Cangrejo: lump crabmeat, mango, chipotle mayo and Taquitos  in the form of Chorizo: pork sausage, queso, crema and salsa habañero.
A Modelo beer (as advertised on the menu) would have washed these down nicely, but our geek-chic waitress apologized that there was none in stock, suggesting a Peroni instead. Way to quash any delusions that we had been transported to a DF cantina…
The dishes arrived promptly, but most importantly were tasty and fresh. The highlight by far was the lump crabmeat tostada – just the right balance of delicate and zesty.
Our charmingly ditzy waitress (she had earlier asked us to confirm whether the wine in the glass looked like it was white or rosé ???) returned to list off the desserts on offer and although the beetroot ice-cream stood out as interesting, the 3 small dishes combination had been surprisingly filling so we passed up on desserts this time around.
The verdict:
A little on the pricey side, the mains of  ' three small dishes' came to between 9 and 11 euro each, slightly more than an actual main course, so as you can imagine it's easy to rack up quite a bill, but definitely more so if you hit up the tequila and mezcal menu!
As authentic Mexican dining experiences go, this was far from perfect.  It's disappointing not to be able to recommend a truly 'real' Mexican restaurant, but I do genuinely like what they've set out to do.
I'd give 777 another chance and here's hoping these few hiccups were down to teething problems…
How to find 777:
7 Castle House, South Great Georges Street, Dublin 2, Ireland